Web-to-print Vs. App-to-print, which is better? This is a perennial question we get asked time and again by potential customers. As anyone who has been lucky enough to be mentored will tell you:
The answers to any question are less valuable than the right questions to the question!
So we decided it is time to analyze this question with more questions:
Building an online presence is one of the most crucial components of business because it allows you to reach your clients with your products.  In our print industry, this is usually your primary sales channel.  Not only do you need to maintain an online presence, but you have to delight your users/customers with it.
However, choosing where your company's presence should be given the wide range of platforms available—especially given how popular smartphones are—is a crucial choice.
Let's start by defining where your users are, or rather how your users find you and see you; consumer Internet usage has changed significantly in recent years, with mobile devices now outpacing PCs in terms of use. The average amount of time people spend online each day globally has declined from 43 minutes on desktop in 2011 to 32 minutes in 2021, with a continued decline predicted through 2022, and has climbed from 32 minutes on mobile in 2011 to 155 minutes in 2021, according to Statista.
According to Broadbandsearch Web sites currently make up less than half (45%) of total online time spent by users, with mobile apps making up the remaining 55%, according to statistics on Internet usage.  But if you only compared data from western economies, and large population metropolises, then the number for mobile is even higher.
Brainlabs described the following trends in a recent study; 44% of retail eCommerce sales in the US will be mobile by 2025. Traditional brands are learning from digitally native DTC companies, incorporating omnichannel purchasing, app-based memberships, and mobile-first loyalty programs. The same study saw mCommerce retail sales increased 15.2% in 2021. 
Customer acquisition for web may seem cheaper or easier than that for installed apps.  That is because it's an older platform, and you are familiar with it.  We get it.  People are in general like their comfort zone.  Your marketing team may have cut their teeth on SEO and A/B Web testing.   So for each additional sale, you need to do this all. over. again.  It's well known brand loyalty with web sites are super low.  Everyone goes to Google and search.  No one types in your URL.  So the biggest spender that day will get his ad on top.  Rinse and repeat.
With Native Apps, sure, it may cost more to acquire an install.  But once you are in, you are in.  You get to reach this user through in-app messaging without having to pay Google or Instagram to shout louder than your competitor.  You get to whisper in your user's ear as often as you want, with any message you want.   
Are you in business to buy the next cart-checkout with yet more ad-spend?  
Or do you want to build a userbase which yields repeat purchases without additional ad-spend?
If you are reading this, it means you are in the imaging industry, and unless you have been hiding under a rock, we don't have to cite any analyst report to convince you that your user's photos are primarily captured on a mobile device, not on a laptop or iPad.
So if your user's photos are primarily in the cloud (like Google Photos, Dropbox, Instagram), then you may be convinced that you can primarily depend on a web2print platform. The argument goes that since the photos are already uploaded to the cloud, you have no clear advantage of being a native app inside their camera. But how did they get to the cloud in the first place? It's because you were not there on their camera to capture the sale first.
With Native apps, you are inside their pocket. You can send in-app notifications, reminding them when they take photos that your app is top-of-mind. The photo app to launch. Before they get home and sync with the Cloud.
Isn't mobile responsive a good middle ground?
We understand; you recently updated your web-to-print solution to a PWA or HTML5 mobile-responsive rocketship, surely that is good enough?  If you think your users are only going to transact very occasionally, and you want to offer a solution that is GREAT for desktops and yet USABLE for mobile users, then yes.  It's a middle ground solution.  But no one ever falls in love with the fella who is just average.
If you want to delight your users, keep them engaged with your products, and ultimately be your brand ambassadors, you need a real app.  You need a native App-to-print solution that is mobile-first in design right from the first screen.
Because native apps maintain a greater retention rate than web sites, mobile apps have become a crucial component in the business strategy of companies that wish to communicate and sell to their clients online.  
Google reports that retention rate for native app users are a whopping 90% higher than users of browser apps when solely considering smartphone users.  To put that in ad-spend terms:  the 2nd sale from a mobile app user you have acquired will cost you nothing.  Nadda.  Free revenue!
Fact: Native Apps generate 4X more product views and convert 3X better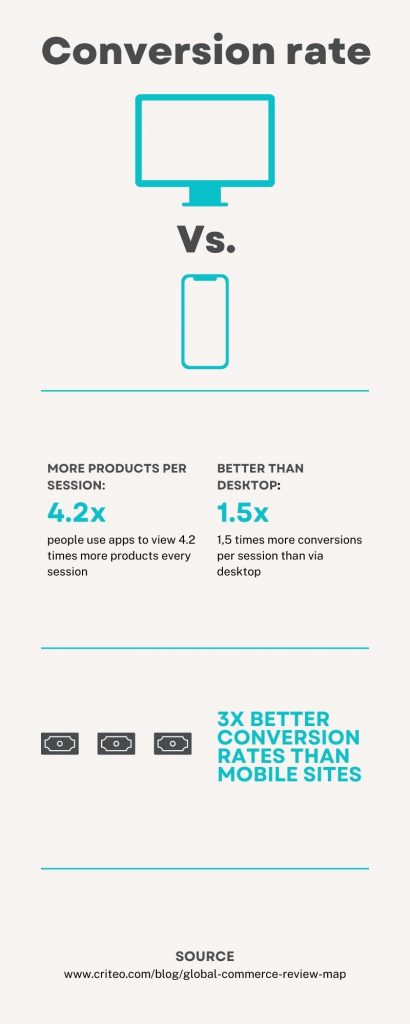 So how do apps fare in comparison to other e-commerce channels? (namely, websites)
According to Criteo's research, consumers are hands-down won over by mobile apps.   Here are some high-level indicators:
Window Shopping: 4.2X more product views on native apps vs mobile websites.
Conversions: Native Apps deliver 3x higher conversion rates than mobile sites, 1.5X higher than Desktop.
What does this mean?
If most of your visitors are coming via desktop browsers, then there is less urgency to get native mobile apps as the 1.5X higher conversions may not be a game changer for your business.
If you see that your mobile traffic is growing quickly (the volume of visitors coming to your web-to-print store via a mobile browser compared to a desktop browser), then two out of 3 ad-dollars that you have spent bringing these mobile browser users to your web2print site goes down the drain if you don't bring them to a native app experience.
Why do mobile apps outperform mobile websites when it comes to conversion? 
We are all aware of how unpleasant it can be to purchase and shop over a mobile responsive site.  If you compare cart abandonment rates of mobile vs desktop sites, it goes up by 73.4% !! 
Why would I have native apps which then competes with my web-to-print store?
"If you don't compete with yourself, then someone else will." – some marketing guru
You might say that's just a very trendy quotable meme.  So let's look at the numbers: 
If you spend $100 to get 100 visitors to your web-to-print store, and if you are in-line with global trends, more than half of them will come via a mobile browser.
We now know that 2 out of 3 those mobile visitors will either simply click on to a competitor who has a native app, or start a project on your website and give up, and be forever discouraged. 
And as we have seen above, if they installed a competitor's app, your competitor will have a 1.9X higher retention rate than your mobile responsive site.
You may record these as the usual leaky funnel and never know the reason why they searched for "photobook printing" but never transact on your webstore.
Now let's consider the alternative:
You spent $100 to attract 100 visitors to your website, and channel the 60 mobile visitors to the appstore to install your native app. Perhaps 30 (half) of them will install.  But these 30 users will yield 3X more conversions and be 1.9X more likely to re-transact than if you forced all 60 of them to use your mobile responsive site.  And you are now in their pocket (or they are in yours?)  And you get to whisper in-app notifications to them without having to pay toll charges to shout it out louder than your competitor.
So your mobile apps aren't really competing with your webstore.  They are defending your turf.  
App-to-print and a web-to-print: Pros and cons
Web-to-print (mobile responsive)
PROs
Do not need to be downloaded or installed
Easy to maintain—they have a shared codebase regardless of mobile platform (fallacy–see below)
Easier to update and re-brand using CSS
Quicker and more accessible to build than mobile apps
Does not require app store approval so you have been control over release cycles
 Cons
Does not work offline
Various browsers have their idiosyncracies (like not supporting long-touch or drag and drop) so you often end up designing for the lowest common experience
Conversion rates and loyalty to a brand are much lower
Slower than mobile apps and less powerful in terms of features
Before your users start editing, they need to upload their photos
Project and cart abandonment rates are much higher 
With new brands, it's harder to convey security and trust as they are not verified by an independent AppStore 
App-to-print (native Android and iOS Apps)
PROs
Faster than web apps, full access to all media (when granted)
Conversion rates are 3X higher than mobile web-apps
Greater functionality as they have access to system resources (this is critical for photo editing and rendering complex GUI)
They have access to users' photos; there is no need for uploads before starting any project
Works offline (on a plane while your customers return from vacation)
Safe and secure—native apps must first be approved by the app store, so users trust them more than a website
Cons
More expensive to build than web apps (that's why more than a dozen companies have chosen to go with our white label app-to-print platform)
Your current web-marketing team may be unfamiliar with promoting apps
To get maximum benefit, you need to target iOS and Android separately, so you are building and maintaining two apps, not one. (see how we take care of this with our white-label platform)
Expensive to maintain and update if just for one store (hence the economies of scale with a white-label solution is a good alternative)
Getting a native app approved by the app store and Facebook (for image access) may seem like black art to most (we eat this for breakfast)
Conclusion: What is best for your business?
If you are entirely new to eCommerce, and most of your users are desktop users, then you are better-off with a pure web-to-print solution, or even a downloadable Windows/Mac desktop program.  We particularly love the one our friends at Taopix have developed.
But if you want to reach the billions of photos taken on mobile phones each day and fast growing mobile commerce, then all you need is a landing page online and a good instagram page which redirects visitors to your native apps on the app store.  Native apps, especially for complex work like making photobooks and collages will always trump the user experience you can ever hope to deliver via mobile responsive websites.
With a native app-to-print, you will delight your users, convert more of them, retain more of them, keep them engaged through in-app messaging, and generate higher ARPU as you grow you user-base and build on top of it each year.  So what about the 40% of visitors who come via browsers?  We would think they have smartphones too (and their photos are likely on 'em!).  You are likely to lose some of them.  But they are too expensive to hold onto anyways.
Don't want to invest a million dollars hiring your own mobile team?  Talk to us about our white-label solution.