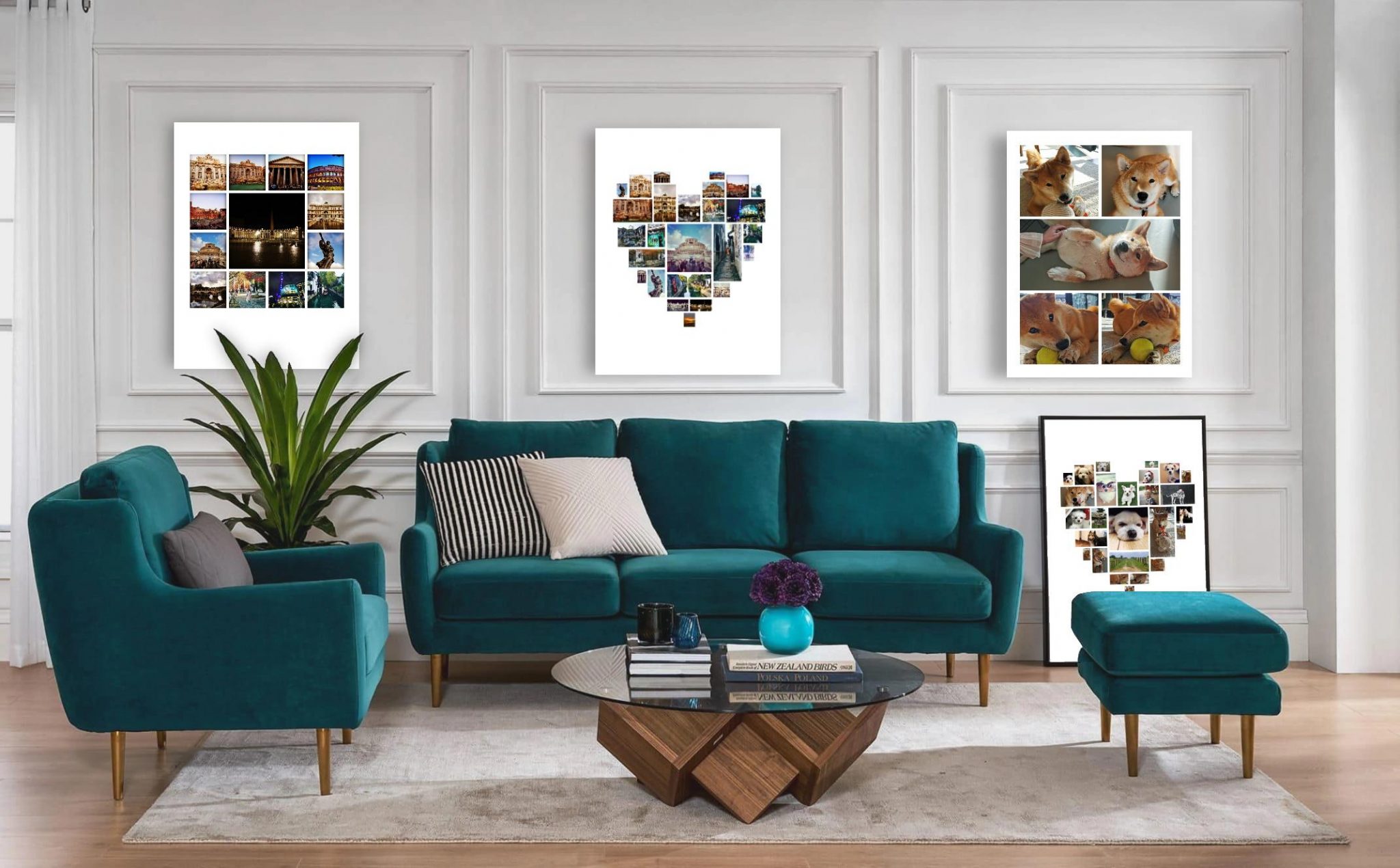 Wall Art Collages are Popular (and high margins)
In the world of mass market furniture, photo wall art products are enjoying strong growth as proud home owners look to relive memories and decorate their homes with their personal touch with unique products.   However, choosing that single photo to blow up into a 50″ tall canvas is daunting.  Hence such products are usually created by photographers ordering them for their clients through pro-labs (with a healthy markup).
So how does a direct-to-consumer photo print company get a slice of the action and sell to the soccer-mom and college kid looking to personalize their dorms?  The answer is Collage!  More photos on the same substrate.
Collages enjoy a premium value perception as it gives "more memories per square feet".  But we know putting together a collage of 15 photos will be a pain even on a PC; hence when we decided to add Collages to our print-on-demand white-label app, we set out to make the smartest and easiest collage maker on the planet. 
Then it dawned on us: collage making is "born mobile"!  Here's 5 reasons why mobile is the rocket fuel behind Wall Art Collage sales!
5 reasons why creating Wall Art Collages is easier on mobile
Creating Wall Art Collages on our mobile app
Collages belong to the class of products we call "MPSS" (Multi-Photo, Single Surface).  When we decided to support the creation of Collages, we realized we needed a brand new user experience.  We looked at Collage Apps and web interfaces.  We didn't like any. 
Obviously, dragging and dropping is not mobile friendly.  Requiring users to position photos within the collage template is also difficult on mobile, so we used AI to look for the salient region of each photo in the collage, and do an auto-flow and auto-crop.   But we know users always have an idea of that "hero shot" that they want to place front and centre.  So we had to devise a way for them to change positions of photos (without a drag and drop).
So we decided to use a simple "tap-tap-swap" interface, inspired by our favorite collage app Framkalla from Sweden.
Collage creation is now in a few of our white-label mobile apps in the UK and Europe.  They already support masks, overlays, and templates which we are rolling out in Q4 2022.
We have also built a massive "Collage Designer" backend which generates the JSON required to set up these products on the App Dashboard.  There are currently designs which runs the gamut from 3 photos to a whopping 26.  The collage designer algorithm smartly adjusts margins and offsets to fit any variations in product surface sizes and specifications needed by multiple PSPs.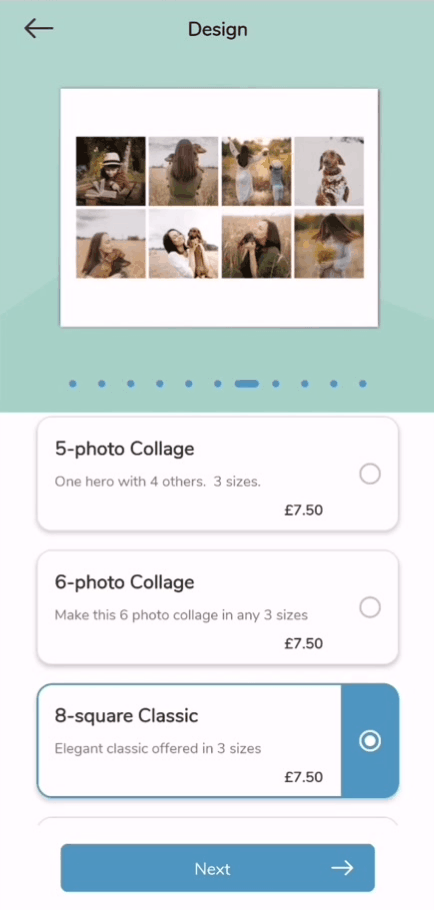 Wallet Prints...a special collage.
We created a "new type" of product we call the "Wallet Print" or "WhatsApp Print"
These are essentially simple collages printed on standard photo paper like the 4×6, 5×7, 6×8.  We were surprised by how popular it has been in our first mobile app to offer it!
Such products speaks to the "Instagram-generation" and are also great for printing WhatsApp photos for sharing amongst friends.  They cost exactly the same as any 4×6 to produce, but is something that can be marketed as a premium, earning outsized margins.  Or great as gifts for customer acquisition.