photobook.ai Replaces Black's Photos app with it's White Label App
Singapore and Montreal – Black's has chosen the AI Photobook app to enable users to automatically make photobooks on their mobile phones using advanced AI and story-flow technology developed by photobook.ai of Singapore.
Black's is a household name in Canada for web-to-print photo personalization.  Black's customers grew up with the brand which represents quality and value.  They are able to design and order a myriad of customized photo products from magnets and prints to wall decor and photobooks on the blacks.ca webstore.
Black's has had internally-developed mobile apps for a few years.  We are glad to be able to work with the excellent team in Montreal to replace these apps using the aiBook3 V3 white-label codebase.  This gives Black's a reliable, scalable and maintainable platform to harness it's fast-growing mobile traffic.  The photobook.ai white-label mobile platform enables the team to be totally self-reliant in launching marketing campaigns, testing and releasing new products.  They are now also able to easily add new cover templates to keep the photobook products on-trend and fresh with their loyal user-base.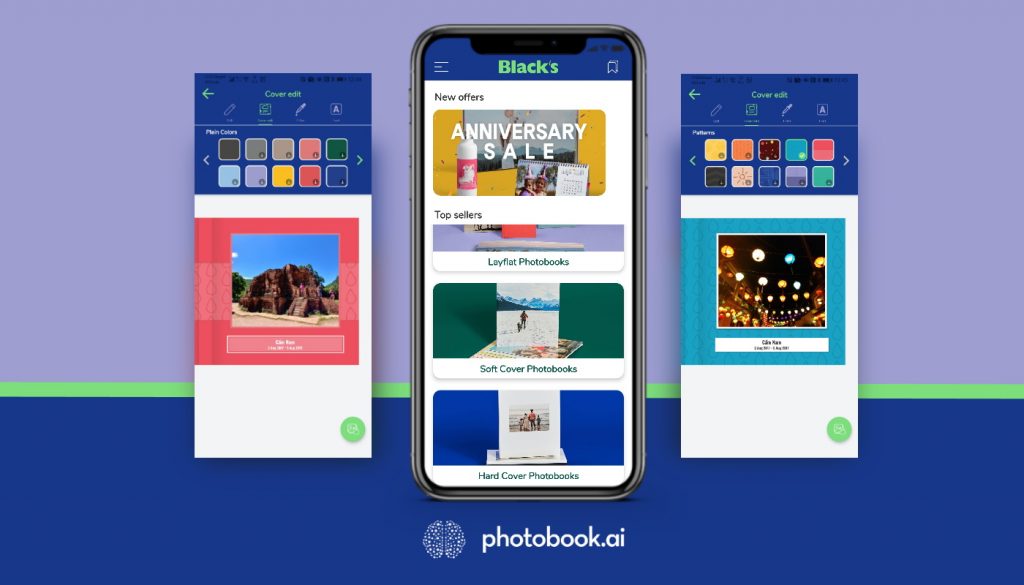 The Black's Photos App will quickly create up to 3 different photobooks per set of photos in 3 page-count modes, ranging from a minimum of 24 pages to a higher price point variant of upto 120 pages, depending on the amount of curated images.  With more pages, it automatically adjusts the layouts to present photos larger, and more sparsely distributed throughout the book, without compromising the story-telling aspects across page-spreads.  It also creates a "middle-option" which balances the price-point and the layout density of photos.  These are all possible thanks to Artificial Intelligence, which were developed with the singular aim of helping users navigate the myriad of possibilities typical of a photobook project.  By creating three page-count options, users can quickly preview how a 24-page book vs a 40 or 80-page book might look like with a particular set of photos.  All done in a single tap right on their phones!
The Black's Photos app will also have downloadable photobook Covers.  This system was specially developed to enable app operators to be able to keep their photobooks fresh by releasing new cover designs painlessly without making the app clunky and large, and without having to publish new app updates.
The Black's Photos app ships with 10 designer book covers and another 10 plain-colored ones which are inspired by their recently refreshed brand colors.  The Black's design team can independently push out new trendy photobook covers remotely from the photobook.ai App Command Center.  This system ensures the initial downloadable size of the app remains small which reduces app-install friction.

Users will be able to start and completely design their photobook entirely on the mobile app, even whilst they are out in the expansive Canadian outdoors sans internet connection.  They can then check-out when they get back to the city and pay in-app using all the usual credit cards popular in Canada plus Paypal, Apple Pay and Google Pay.  All without ever having to sit at a computer.  Users can choose economic delivery by Canadian Post or an express service by Express Post. The Black's Photos App for iOS and Android are now available for download directly from the Apple AppStore and Google PlayStore respectively for Canadian users.