White Label App Development
The White Label Program is the lowest investment to getting your own branded native mobile apps (Android and iOS) quickly.  It is designed from the ground up to be a complete photo-app business in-a-box.  From the very first on-boarding screens when a user launches the app, to sign up, notification emails, all the way to ordering and submitting a photobook order, cross-selling, promotions, coupons, shipping options…we have evolved this app through multiple iterations with customers globally to arrive at a complete and sophisticated app and business program.
What Goes Into A White Label App?
We integrate your user database and user profile systems. Single Sign On, Login, Accounts, Forgot Password, Billing Address, Shipping Addresses, Order history etc.
Integrate Google Firebase to track and measure user behavior and conversions within the app. You will get your own Firebase profile and login.
Caters to your particular print SKU and requirements, from cover jacket renderings, wraps, bleed and crop marks. DPI, Color Space, PDFs or JPEGs? JSON or XML?
Integrates with your payment systems or your chosen third party payments solutions provider, including region-specific payments like Boleto (Brasil), Kombini (Japan), M-pesa (Africa), Stripe (Visa, Master etc), Paypal…
Works with your print servers, figuring details like whether to upload print files via FTP, or static IP via AWS? Generating an Order ID, price quotation. We also work with HP SiteFlow for smaller customers who just wants to download jobs off OneFlow.
Our SDK has many parameters. We will help customize for target page counts, photos per page, types of Covers? (focus on People? Landscapes? Flowers?) Inside page blanks? Page numbers on every page? Captions?
We will customize each white label app to fit your brand colors, logos, and even your nomenclature: do you say "pick", "choose" or "select"?  "photos" or "pictures"? "Order" or "Buy"?  "Login" or "Sign In"?
We can even support right to left (Hebrew) character sets, and of course, all the popular languages from Portuguese to Parsi…
All the screens have been user-tested, and are update frequently as we gather more analytics data on conversions and attention leakages.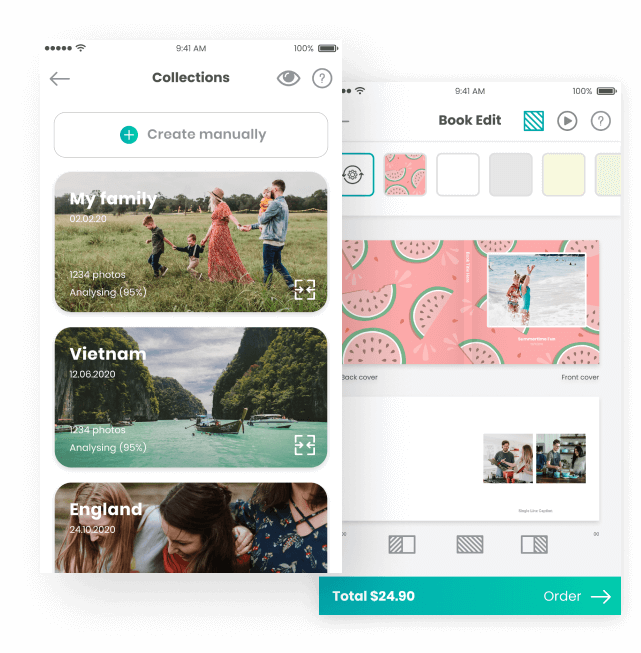 Not what you're looking for?