India's largest digital printer launches print-on-demand app by photobook.ai for photobooks, prints and wall art
1st September 2021, Bangalore, India, and Singapore –
Earlier this month in September, we released on the Google PlayStore the Printo Photo print App developed for Printo India.  This is the second white label of our photobook mobile app which we have released this year.  For this first release of Printo Photos, users are also able to print large format Wall Art on canvas and premium papers of up to A0 size (47×33"), in addition to the instant AI photobooks that we are known for.  Photo prints and Mugs round out the initial range of print-on-demand products supported by the mobile app.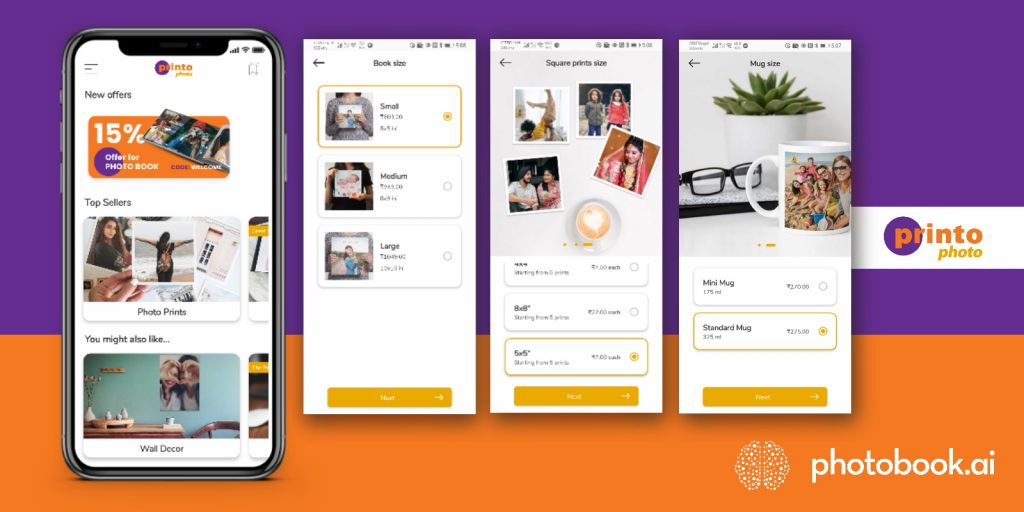 This relationship began when we met Manish Sharma, Founder/Chairman of Printo India at Print China in Guangdong in the Spring of 2019 soon after they acquired Canvera in 2018.  We were introduced by our friends at HP Indigo.
Printo has 26 retail locations all across the major cities in India with an ambition to get to 250 stores.  They are growing at a steady 25-30+% each year and became the largest digital printer in India after acquiring Inkmonk and Canvera, both household brands who print high-quality customized products from business cards to high quality heirloom wedding album photobooks.  For our friends form the "Western" world, you can say they are the "Vistaprint" of India.
When the pandemic hit, Printo realised they must accelerate their photo print mobile app roadmap.  Printo is headquartered in Bangalore with a 10,000sqft production facility, smack in the middle of India's Silicon Valley, where the nation's smartest software engineers congregate.  Despite having a sizeable software team of their own, they turned to us for a photobook mobile app.  Founded by software and print professionals, they understand intimately the demanding speed and commitment required in developing, maintaining and continuously upgrading print-on-demand mobile apps.  India is a very price-sensitive market, so a cost-effective long-term solution was needed, and the photobook.ai white-label photobook mobile app fit those requirements both in terms of performance, technical wizardry, and also business model.  We configured our white label photo prints app quickly, onboarded the team, and integrated the very extensive IT Systems of Printo India to make the entire user-flow frictionless and robust.  We even added in-app Razorpay support, a popular mobile payment platform with Indian shoppers.  Many more products will be rolled out via the App using photobook.ai's proprietary middleware which will enable the team in India to push out new innovative products painlessly without the need to release new apps.
More on our white label photobook print on demand mobile app: aiBooks V3 – Photobook AI – Visual Intelligence
About Printo: https://www.printo.in/about 
Get in touch with photobook.ai here.
Email: hello@photobookai