The No.1 Australian online photo personalization store is now available on mobile
We have been tapped by Australia's most popular online store for photo personalization gifts to develop their mobile apps for iOS and Android devices using our 3rd Generation mobile platform.  Photobookshop.com.au is known for top quality photobooks at an affordable price, and has in recent years, expanded quickly to include a very exciting range of photo products and gifts.  It boasts one of the most extensive catalog of photo gift products which includes jigsaws, to even kitchen accessories, towels and tableware.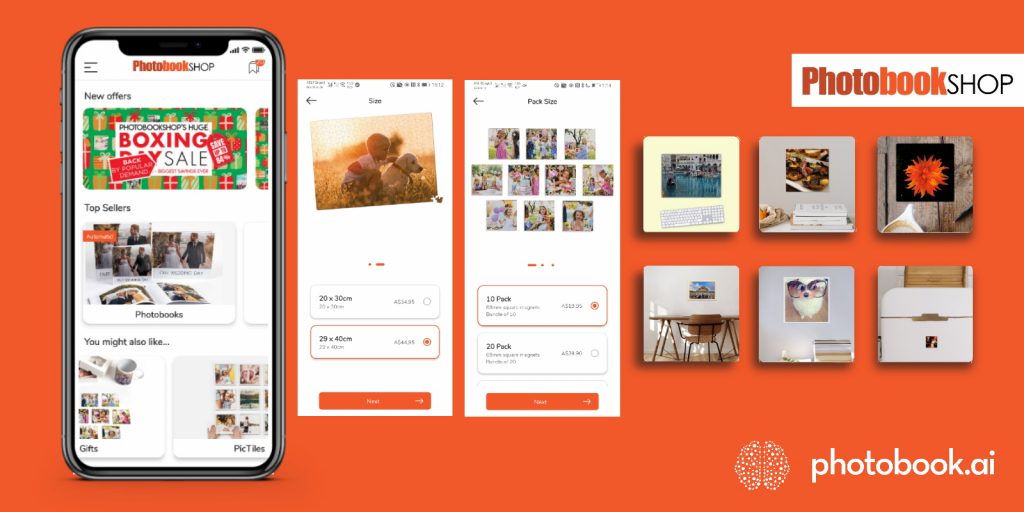 The Photobook Shop App uses AI to automatically create photobooks and offer them in 3 page-count options, ranging from a minimum 20 page book, to a higher page-count option which will layout photos more sparsely.  It will also create a "middle-option" which balances the price-point and the layout density of photos.  These are all done automatically using advanced AI algorithms with the singular aim of helping users navigate the myriad of options typical of embarking on a photobook project.  By creating three page-count options, users can quickly see how a 20-page book vs a 60 page book will look like with a particular set of photos.  All in a single click.
The Photobook Shop app features a slew of new products recently developed by photobook.ai for their app platform.  Available immediately, the Apps will offer a curated collection of photo gifts which will start with Magnets, jigsaw puzzles and coasters.  Additional products from the extensive catalog will be progressively pushed to the apps.  Now customers can create jigsaw puzzles out of their own photos, making this a great gift for kids.
Pic Tiles - Fastest growing wall decor product the world has seen
Users can now also order the very trendy and popular Pic Tiles which are 8 x 8 inch framed canvases which comes with special 3M mounting strips ready to hang.  The hip and versatile photo tiles by photobookshop comes handsomely framed in a choice of white or black frames. 
All the products feature photobook.ai's RealSense Preview; where users can see how their photos and chosen products will look when they are finished, rendered in a photo-realistic scene which might include a fireplace, barn-house living room to a modern couch.  The ability for customers to see how their product will look like allows them easily appreciate the size and scale of each item and how it might look in their homes.  This has been repeatedly shown to increase user satisfaction which results in increased cart conversions.  The RealSense previews are rendered in-app, so users can take their time to browse and try on different products even when offline and only need to go online when they wish to purchase.
The Photobook Shop App are now available for download directly from the Apple AppStore and Google PlayStore for free for Australian users.  Users can design, order and pay directly in the app with Apple Pay, Google Pay, Paypal and all popular credit and debit cards.
Find out more about Photobook Shop by visiting https://www.photobookshop.com.au