Pixelnet Fotos developed with Photobook.ai Platform
We are pleased to have been tapped to deliver and maintain the photo print-on-demand and personalization apps for ORWO Net GmbH , one of Europe's largest white-label full service print provider who fulfills for some of Europe's largest drugstore chains with thousands of stores and millions of users.  The Pixelnet Fotos for iOS and Android apps were developed from photobook.ai's white label platform.  Our aiBook Mobile Apps are into its 3rd Generation and is a complete solution for any company to cost-effectively launch and more importantly, maintain a mobile app channel to their market.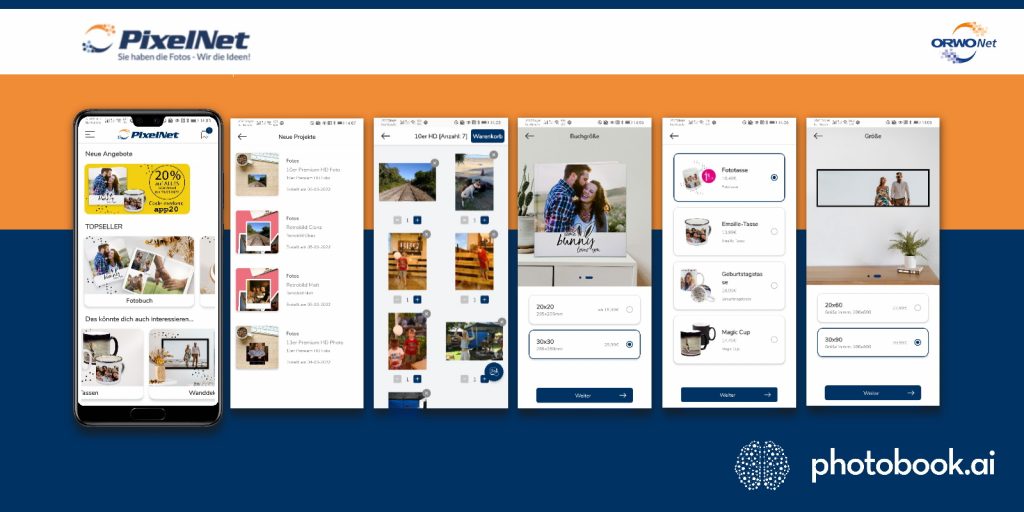 The aiBook 3 White Label system sits on top of a powerful and scalable middleware which encompasses e-commerce functions like payments and refunds, CRM for user management and a robust Product Management System specially tailored for a highly complex mass-customization photo business.
Being the fulfiller of choice for many of Europe's largest photo retail chains, ORWONet AG has one of the most comprehensive catalogs in the world, consisting of over 10,000 possible product variants ranging from small photo gifts like photo keychains and mugs to life-sized wall décor and photobooks, which are arguably one of the most complex photo products in the industry.  Each one of these products have a myriad of options; from multiple frames, different paper finishing, sizes, orientation, shapes and shipping options.  ORWO needed an industrial strength solution that is able to manage all these product variations.
Today's global supply-chain uncertainties and fast-changing consumer trends means that ORWO also needed flexibility and agility to be able to surgically take some product options out of circulation or simply turn on and off entire product categories for different retail chains.  ORWO also wanted to be able to quickly introduce and test new products easily, without requiring the release of new apps each time.
Scalable Multi-Brand, Single App Strategy
The Pixelnet Fotos app uses our proprietary middleware system which we integrated with ORWO's print flow and legacy user management system.  ORWO also wants the Pixelnet apps to be easily cloned and individually configured for each of their multiple brands and partners.  Each brand's app also needs to able be offer a slightly different product mix from each other, and yet still managed centrally from the same familiar command center dashboard.
Photobook.ai's aiBook3 White Label Platform checks all the boxes.  Our V3 Product Management System was designed from the ground-up specifically for mass-customization photo products and baked into the aiBook client app.  aiBooks V3 also sports one of the most advanced computer vision and AI available in a mobile app today, which helps users to smartly curate and create photobooks.  AI is also used to power the Smartcrop feature which makes creating simple products like magnets, mugs, prints and wall art even simpler by removing the need for users to adjust their photos.  SmartCrop uses scene saliency estimation to find the area of interest in any photo and ensures that they are not cropped away when a landscape photo has to fit into a square photo tile, or a 16:9 photo has to fit in a 4×6 print, or even to fit little Bruto the pug into a heart-shaped magnet!
The Pixelnet Fotos Apps are available for free download on the Google Play and Apple AppStore for users in Germany and is available in both Deutsch and English.  Designed and developed by the photobook.ai team in Singapore and 3 other global locations, the backend servers are located in the EU and strictly comply with all GDPR requirements.


ABOUT ORWONET GMBH
ORWO Net GmbH is an innovation center among the photographic laboratories and one of the leading providers of image processing and digital photo services in Germany. At Bitterfeld-Wolfen, the company has more than 100 years of experience in the film and photography business. In 2003, ORWO successfully completed the leap from one of the largest production plants for analogue film to a competitive, high-growth white label provider of photographic products. Since then, over 70 million euros have been invested in the company. In fiscal year 2018, ORWO realized sales of EUR 41 million. Sales and EBITDA increased by 23% over the period from 2004 to 2014, and the growth trend continues to be prospective. The number of employees rose from 35 employees in 2003 to 340 in 2019. Today ORWO is the umbrella for three self-sustainable brands: PixelNet, Foto Quelle, Photo Dose and myFOTO. The product range of ORWO Net GmbH includes prints, photo books and calendars as well as personalized photo and print products. 88 percent of sales are generated by digital imagery. Reference customers are nationwide and internationally operating drugstore and discount chains, mail-order houses and international Internet platforms. The company benefits from its open sales concept (B2B, B2B2C and B2C), Internet-based customer acquisition and close cooperation with its cooperation partners for the local approach of end users. In the direct connection of POS service terminals to production, ORWO Net GmbH is one of the technology-leading companies in the country.  (www.orwonet.de)